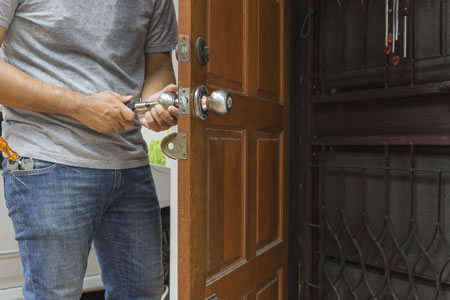 Lock Replacement
Are you uncertain about the quality of your existing door locks? Have your entry door locks been damaged in an attempted burglary? Your locks provide security and protection against theft and vandalism, so it's critical that you fix lock issues as soon as possible. At Top St. Louis Locksmith, our mobile technicians offer a wide range of popularly requested services, including lock change, rekeying, lock repair, and lock replacement in St. Louis, Missouri, and surrounding metro area neighborhoods. If you're looking online for "lock replacement near me," then contact our staff. From routine lock change services to advanced high-security door lock installation in St. Louis, our team of professionals is ready to help you reach your goals.
Lock Repair and Lock Replacement in St. Louis, MO
Over time, even the highest quality locks can eventually succumb to wear and tear. Whether your locks have been exposed to extreme weather or you've suffered an attempted break-in, our professionals can make sure that your locks are working their best at all times. We can repair or replace your existing locks quickly and accurately, so you can move forward with less worry about the security of your assets and loved ones. Call to get your professional lock replacement in St. Louis.
Routine Lock Change and Rekeying Services
Are you a landlord who prefers to change the locks between tenants? Do you own an office building or commercial property that requires routine lock changes or rekeying in order to maintain access control? Then we're here to help. Whether you need to change your locks and keys for commercial or personal reasons, our mobile locksmiths will come to your location with all the tools and equipment needed to get the job done successfully.
New Door Lock Installation St. Louis, Missouri
Some people install new locks when a lock repair in Saint Louis cannot fix the damage. However, many owners will also invest in new locks because their existing model is of low quality. If you're still using the minimum standard locks installed by the original construction crew, then you probably need an upgrade. While these kinds of locks can offer some level of protection, they are easily picked and can cause property owners to become the target of criminals. If you're ready to upgrade to a high-security lock, then our team will be happy to help you find the best locks to suit your needs, lifestyle, and budget. From bump and pick resistant locks to keyless biometric technologies, we can install the access control system you want to defend your home or business.
Do You Need a Professional Lock Change or Door Lock Installation in St. Louis?
Have you been searching Google for "lock replacement near me"? If you are looking for qualified locksmiths who can perform your next lock change or lock repair in Saint Louis, then you're in the right place. Call the specialists at Top St. Louis Locksmith today. Our friendly mobile locksmiths are always ready to use their tools and training to help improve the safety and security of your home or business. If you need a lock replacement or new door lock installation in St. Louis, MO, or a nearby community, then call today to schedule your appointment.